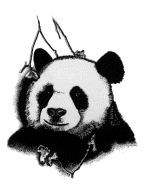 Welcome to Jen's Endangered Pandas Website. We've gathered information from many sources. Feel free to browse the site and learn more about these wonderful creatures.
Click HERE to vote for this page as a Starting Point Hot Site.

Email Me!
"We support the work of the National Center for Missing and Exploited Children"
Sign My Guestbook View My Guestbook
For any questions about this site, please contact OpenSky Computers or email the Site Administrator. Site last updated: 10/20/98 11:30:40 AM